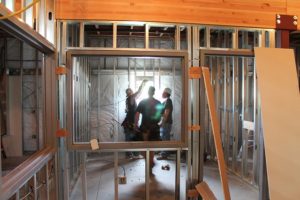 Then he said, "I thought all contractors were drunks."
I was working late one night in a home when the homeowner offered me a beer.  He was very friendly and we had been chatting quite a bit while I was working. But I declined.  Then he offered me some whiskey which I thought was odd and declined it also.  Then he said, "I thought all contractors were drunks!"  He was not what he seemed to be.  Many people are like that.
To drink on a job is not smart at all no matter  how tired you are, how hot it is, or if other people are drinking beer.  Some companies will fire you on the spot if they catch you. This is where rule #11 comes from.
#11 Never accept a beer from a client.
It does your reputation no good if you are found to accept a drink while working.   You may think no one else will ever know.  Brian Tracy taught the truth that everyone knows everything.  People will eventually know you do that and so will all your suppliers and professional contacts.  It could spell disaster for your business in the long run.
#34 Don't show up with a three day growth on your beard.
One of the painting companies I conversed with on the internet in a trade association had a policy of no one going on a job unshaven.  The owner said, "We have a bathroom at our shop supplied with razors and shaving crème.  If they come to work unshaven, they either shave or go home."
Many companies, if you do any kind of warranty work, will call the customer after you have been there and ask, "Were they on time, were they courteous, were they dressed well, were they clean shaven and were you comfortable with them in your home?"
Think for a minute.  You knock on the door, and the woman looks through the peep hole with three little ones in tow, and her husband is at work.  She sees a man with a three day growth on his face, holes in his jeans and a dirty tee shirt.  She will not be anxious to let you in.
What looks cool on Friday night when you go out does not inspire confidence on Monday morning.
#31 We only will wait 10 to 15 minutes. 
I called a client on one job, and he said he could meet me.  I got there and waited about five minutes and then called him to "see how far out he was."  Really I called to see if he had left work yet because sometimes they haven't.
He said he got tied up but would be there in about 10 minutes.  At 12 minutes, I called again.  (I usually write the time down on a clip board that I carry so I remember what time he said that.)  Then he tells me he is leaving in a few minutes.  What he is really doing is trying to get me to wait till he gets off work.  He said, "Can't you wait for a bit?"  I said, "No. I have other jobs to do."
It was a couple of weeks before I called him back. The next time he was prompt.
He never intended to meet me. He wanted to string me along until he got off work. We don't wait.
Sometimes people will want to meet at 4:00 PM.  You can ask, "Do you want to meet at 4:00 or is that when you get off work?" If they won't be actually there until 4:30, we decline and wait for another day.
If you wait much longer than 15 minutes, it appears as though you have nothing else to do other than wait on them to be able to make some money.  It gives a very poor image of you and your business.
#21 Only reschedule once.
If you have to reschedule a job, only do it once.  More than one reschedule makes you look flakey besides the fact that many people look down on contractors as being unreliable.  It also gives the appearance that you can't run a good schedule or a good business. The reputation you want to build is that if you say it, you will do it and on time.  People will pay more for that than great workmanship.
#15 Be on time.
Some people are always late, and they will tell you so.  If you are late, hey, that is how they are and it is very acceptable.
But there is a class of people out there that prize punctuality.  If you are late, they will never call you again.  That is just how they see life.  You are unreliable, and you will not put forth the effort to be on time.
So if you want all the work you can get, be on time and get those "clock watchers," too!
Having said that, the only other acceptable thing that works is to call or text them, and tell them you will be late.  It is not quite as good, but it is much better that just showing up late.   Some people won't wait long if you are not on time.  So if it happens – call.
#40 Never go into homes with only young children, especially girls.
This rule came up again this week. The lady told me that if I beat her to the house, her daughter would let me in. I told her I would wait.
It is just good policy. Another time, I was working out of town on a job.  I had called the man and verified the time I would be there. I got to the house and an 8-10 year old girl answered the door.  She said her dad had called and said to let us (I had a helper with me) in, and that her dad would be there shortly.
I told her we would wait in the truck. I told the man who was the local fire chief that we never enter a house with only underage girls there. He said he understood.
Sometimes you have to find out if the young person is a boy or girl and what age they are. Boys are not quite the problem. You could ask if they go to college.  If not, tell them, "It's nothing personal; it is just against our company policy to go into homes with only young girls there unless they have graduated high school. I need the adult to meet us. Most people will understand.
What I don't understand is instructing a young girl to let an adult into their home that they have never met.  It seems odd to me but people do it.
 #7 Go get the work.
If you want the work, you have to go get it.  Figure out every possible avenue that could use what you do.  Then call or go by and drop off some cards.
Manufacturers
Wholesalers
Tradesmen
Apartment complexes
Real estate agents
Builders
I found a list of all the builders in our area online in the beginning which was about 400 people.  I entered them all into a data base, so that we could print out envelopes and have them look nice. Then we mailed them all letters.
This was a lot of work, but every time I did that we would pick up two or three builders.  If you do that four times a year, it will pay off after a while.
Spend some time on the phone calling people that could benefit from your business especially if they are out of town. I picked up some accounts on the fourth call.
Always look for a way to pick up more business.  I did a job for a wholesaler years ago.  When I was done, I called him on the phone and visited with him.  I asked him what brands he sold.  He mentioned one that I did not work for and I told him that.  He said that they had just hired a new salesman and gave me the man's number.  A few weeks later I was in with that brand and have done a number of jobs over the years and also gotten a great many referrals.
Finally, pray and ask God to open doors for you.  He will because he is your Father.  If God is not your Father, then get born again and then pray.  He will be able to be more help to you than you can ever imagine.
A great book to read along these lines written by Jay Abraham is Getting Everything You Can out of All You've Got.  He explains how to make a great business with very little to not cost.  It is well worth reading.
Dealing with People
This one does not have a rule as such, but it is interesting.
Three or four times when I was younger, I had people call me and say "It's 10:00, we had an appointment for 9:00, and I took off work to meet you. Are you coming?"
At first I told them I was sorry and rushed over and did the work. I could not remember making the appointment, but since I talk to a lot of people maybe I did.
After this occurred three or four times over a couple of years, I began to realize I never set that appointment.  So I began to ask them who they talked with to set this appointment.  They usually responded with "your office, the job foreman or the manufacturer." I tell them that I am the only one to talk to to get service.  I will call you in the next few days, and we will figure out a time.
What probably happened is that they took off from work that morning for whatever reason, and it was convenient for them to have me come that morning.  Rather than asking, they tried to guilt me into doing the job right now. That worked a few times but no longer.
Proverbs 14:24 The wise accumulate wisdom; fools get stupider by the day.  (The Message)
Proverbs 2:7 He layeth up sound wisdom for the righteous: he is a buckler to them that walk uprightly.
Accumulating rules that govern life are all part of The Prosperous Life.