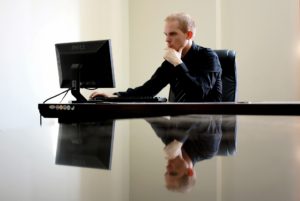 One hour per day of study in your chosen field is all it takes. One hour per day of study will put you at the top of your field within three years. Within five years, you'll be a national authority. In seven years, you can be one of the best people in the world at what you do. Earl Nightingale
Chapter 13
Answer a Question with a Question
When could you start the job?" I answered, "Next week." Then there was usually a pause and the person would say, "Oh! (pause) We won't be ready for about a month.  I thought all the good contractors were booked up for several weeks.  Are you not busy?"
This is where Rule #24 came from.
Rule #24 – Answer a Question with a Question.
I learned to use this principle many years ago after being asked the above question. I hated that.  It is so demeaning and condescending. I finally decided to ask this question in return, "When will you be ready?"  That solved that problem.  Sometimes they would totally forget the question they had asked and start talking about the job, their work or whatever and never asked me again.  I could just say, "Well, call me a week or so ahead of time."  Works like a champ every time.  I taught my kids to do this, and then they tried it on me.  I said, "Hey, I taught you that.  Just answer straight up!"
Learn to ask questions or in other words get more information before answering.  It helps save your sanity and makes you look like an expert.  It feels much better, too.
These rules came from situations that I ran into over the last 40 years of contracting.  They were the way I worked out to be as comfortable as possible in uncomfortable situations.  They have kept me out of trouble and guarded me against loss many times.
Good habits keep you safe and defend you as you will see as we go through more of these rules.
Remember, these rules don't apply all the time.  But if you make a habit of keeping them, you will see their wisdom.
Some particular jobs may require a slight alteration of some of these.  But in talking to other contractors through the years, most have agreed they keep these same rules.  There is a reason for different trades and professions coming to the same or similar conclusions.
Rules keep you, your business and your money safe.  They help to establish your integrity, and they result in an internal confidence.  You know what to do or say.
Rule #25 – Stand up for Yourself.
Stand up for yourself.  Bold but not arrogant.  No one else will stand up for you.  In other words have a backbone.  People will have more respect for you, and in the long run it will benefit your business because it gives off an air of confidence.  Confident but not prideful.  People would much rather hire or contract with a confident person than one that is unsure of him or herself.
Rule #26 – Never Sit in the Driveway.
I remember a few times I was done with a job, packed up and then relaxed in my truck for a few minutes before leaving — filling out paperwork or making phone calls.  Then at times I would hear a tap on my window and here was the client with a spot they found that they wanted me to look at.  I would go with them back into the job I just left for maybe a couple of hours.
Most of the time the items were very small.  So small in fact that if I was not there they would have never called me.  Some people told me that if I had left they would not have bothered to call.  I learned: don't sit in the driveway.  Others I have talked to have learned that same thing. We are not trying to do shoddy work or get away with something, but some things are so insignificant it is almost laughable, but may take a couple of hours to fix if it is even possible. Make your calls from a gas station.
Rule #27 – Leave the Key in the Lock.
Many houses have a lockbox on the front door especially on construction sites.  After you take the key from the lockbox and unlock the door, leave it in the door. Don't put it in your pocket. I have had to drive 30 minutes back to a job because I put the key in my pocket after I unlocked the door. I forgot and took the key with me. Usually, this happens because the house was locked when I got there, but before I was done, others showed up to work. You would not lock a door with people in the house, so if the key is in your pocket, you just forget and leave.  Now you have to go back.  Just leave the key in the door.  This solves that problem.  If no one is there when you leave, lock the house and put the key back.  This makes life simpler.
We also follow these rules for locking houses:
If the house is open when we get there between 8-5, we leave it open when we are finished.
If the house is locked when we get there, we lock it when we leave.
If the house is open when we get there but it is about 5:00 when we leave, we lock it up.
Sometimes I will call the builder if I am unsure what he wants done.
Usually these lock rules work well.  But you will get an occasional call of irritation.  If they want it done differently, just say, "No problem," and do what they ask.
As a side note: unless instructed to by the builder, NEVER give the house key to the buyer.  Some people will move into the house before the closing date and then never close.  I have been on several jobs where this occurred.  In some cases, they lived there for months and had to be evicted. People can be very friendly and very deceitful.  If the buyer insists you give them the keys, just tell them you are not authorized to give out keys to anyone and that they need to speak to the builder. If they tell you the builder said to give them the keys, call and verify.
Rule #28 – Establish Trust.
Establishing trust with your clients takes time.  This is one reason it is important to dress appropriately for the first contact.  I carry an ironed shirt on a hanger in the back seat, and on some jobs I put that on before I go to the door.  First impressions are important.
You want to build a reputation for being honest and truthful.  That kind of reputation will take you much further down the road and open up many doors that would otherwise be closed to you.
I had a foreman years ago that requested some work be done in his home.  I asked how he wanted this to be billed, and he said to charge it to a house that was under construction. These situations are always a mess.  I finally called his supervisor and asked him if this was company policy.  He said, "NO!" I took the risk that the foreman might convince the building company to fire me in retaliation.  I would rather be fired and lose that large account than gain a reputation of being dishonest.  What would have happened if the main builder saw the bill, knew I had not worked on that house and when I told them about the foreman's request, the foreman denied everything?  Then I would appear to be fleecing the builder.  People talk!!
A reputation of dishonesty would be very hard to overcome if it ever could be.  At times I have pointed out to people how I saved them money or that I was refunding money they gave me for parts.  They would have never known that I did not use them.  Sometimes I have to tell them I am just being honest by saying, "If it was mine, I would not spend the money on the repair. I would just replace the unit." Since I do not sell new units, I am just giving them my best advice.
Once you start down the road of lying, where do you stop?  Once people know you lie, how can they ever trust you to tell the truth in the future?  If you "fudge" a bill and send it to the manufacturer when the builder knows it really is his fault, where do you stop?  You get a reputation for not being honest.
It may make you some friends in the short run, but in the long run it will destroy your business. People talk, and they will learn that they cannot trust what you say if they need an honest evaluation. You are a liar.  Just be honest.
Rule #29 – Never Take Instructions from Anyone 
Other Than Who is Paying.
As I write this, I remember that about a week ago a general contractor reinstructed me on what he wanted me to repair.  I looked him in the eye and politely said, "You are not the one paying me."  He might be right in his instructions, but I will call and verify. I call and verify everything.  I had two last week where the builder instructed me to do one repair, but the homeowner said there were three. I called and verified and was told to go ahead.  But I have been told in the past, "No, we are only paying for one. The other is on them." So that is what you tell the homeowner.  If the homeowner wants to argue, you just tell them they need to call and talk to the builder.
You need to call and verify on any instructions you receive from anyone that is not paying for the job.
I have had many builders thank me for verifying.
I looked at one person and said, "I don't even know who you are!!"  Then I went and talked to the builder.  That time it turns out that it was a real estate agent, and they had no idea what they were talking about.  Always verify.
Rule #30 – Ask Who Is Paying for the Job, Part 1.
Most contractors are afraid to talk about money.  You just have to get over it.  Before you even start the job, settle the question of payment. Who is paying for the job?  I ask this over the phone many times.  If they say another person is paying, I ask for that person's phone number and verify.  We try to verify everything.  I have run into many situations where all the parties involved said they were not paying.  I told each person they needed to talk to each other and have the one that is paying call me back.
If you settle this up front, you will have fewer problems.  But if you wait till afterwards, they may all say, "Thanks," but leave you holding an empty sack. We will talk more about money in some of the later rules.
Rule #31 – Always Return Your Phone Calls or Reply to Text Messages Promptly.
I will never forget the first client I picked up as a contractor.  I asked her what happened to her other contractor.  She said, "I can never get him to call me back or answer the phone."  Many times I have been told the person called me because they could not get a hold of their regular contractor — sometimes for a couple of months. You can pick up a lot of business over time by just returning calls.  People like doing business with those they can get in contact with quickly.  Also, this is good marketing.  On my business card for years I had the phrase: "We return calls promptly."
Proverbs 25:13 Like the cold of snow in the time of harvest is a faithful messenger to those who send him; he refreshes the soul of his masters.
(English Standard Version)