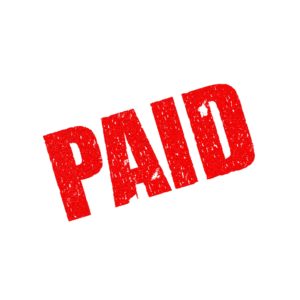 Some people just won't pay until you call them.  Some won't pay until you call, email or fax several times. So in our business, my wife does the collecting.  (Home owners pay the day the work is done.)  If they have not paid in the time reasonable for their classification, she calls them on the phone and simply asks if they received the invoice. It is usually two weeks for builders, two weeks for plumbers, two months for manufacturers, and two months for wholesalers. Then be quiet and see what they say.  Sometimes it is amazing the excuses they give.
My secretary had it in her purse and forgot to mail it for two weeks.
The accountant has my check book.
We changed our fax number.
We changed our email address.
We never got that invoice.
We decided not to pay.
We sent it to the plumber.
The homeowner is supposed to pay, and we have not gotten the money yet.
I thought we already paid that.
And the best one: Plumber, "Well, my guy did that mistake so I am not paying."  I said, "Well, he works for you!" Response, "Not anymore; he stole my pickup and ran off with my daughter, so I fired him.  If you want your money, talk to him." (We got the money but it took many calls to the plumber and the builder. Sometimes it is like dealing with small children.  This was also an out of town job, and from then on out of town builders, plumbers and clients have to pay on the spot or we won't do the work.  It is more difficult to collect on out of town jobs than local jobs.  Just tell the out of town client that it is nothing personal, but on out of town jobs we have to be met with a check or we cannot do the work. I sleep much better that way.  If there is one thing I hate in life, it is not getting paid.)
When my wife emails or faxes an invoice, she writes or types across the face of the invoice the date it was emailed or faxed.  So by the fifth time there are several dates.  (Faxed 2/03/2107; emailed 2/15/17; emailed……)
If she is not successful in collecting the money, she gives it to me.  I am not usually as polite as my wife.  I am successful most all of the time.  I have called some people over 100 times.
In the past, I know they do not answer if they see it is my number, so I will borrow other people's phones and call.  I reach them eventually.
I called the last one three times before 10:00 AM.
The first time I called (7:15 AM) I told him we needed to get these invoices taken care of as they were two months old.
The second call I left no message since he will see it is my number.
The third call I simply asked him to call me.
He called 30 minutes later.  He apologized and asked how he could take care of it.  I said he could use a credit card, as I have an app on my phone.  In two minutes the bill was paid.  It is amazing how easily people will pay with a credit card.
You just have to accept the fact that confrontation is the name of the game if you want to get paid and your family deserves to have the money you worked for. We are not a charity nor are we donating our labor so others can have their projects done at a lower cost.
We have had this rule of Go Get the Money for 40 years.  It has worked out very well.  It takes some guts, and it uncomfortable, but the feeling of not being paid is sickening.  Thus rule #14:
# 14 Go get the money
In residential jobs where there is a homeowner, a simple way to avoid collections is to settle, up front, how you will be paid.  Ask them if they will be paying with a check or credit card. If they will not be there when the work is done, ask them if they can leave you a check as your company does not bill residential customers.  For instance, has the plumber ever offered to send you a bill in the mail?  No! You pay him on the spot.  You should expect the same.
Get a credit card app for your phone and offer to have them pay by credit card.  It will cost you 2-3.5 %, but that is a small price to pay for not having to call to collect later. We use the Intuit app Go Payment.  You may have to also use QuickBooks to get that app.  Square works also, but they are progressives and many politically incorrect things they do not allow to go through their app.
We have done some jobs where we are paid with a credit card when we are done by calling them on the phone.
# 38 Don't allow people to make you feel guilty for collecting.
People are great manipulators.  Some will try to make you feel guilty for asking about your money.  Never feel guilty!  Those people are the ones you may want to put on the 20% list that cause you 80% of your grief. Lose them!
I stopped by a builder's home many years ago on a Saturday morning and asked for a check. This was during a very depressed time in the housing market.  She said "Can you never wait?"  I said, "Hey, I was in the area."  (I was in the area, TO COLLECT A CHECK!)  She paid, and I learned later that on the following Tuesday the bank turned her down for her last draw.  I was the last person to get paid 100% of their bill.  We made it by one day or less.  The rest of the contractors took 20 cents on the dollar two years later.  I believe God fights for me and gives me the boldness that is required to get paid at times.
The righteous are bold as a lion.  Bold but not rude.  Bold but not pushy or arrogant.
You did the work and deserve to be paid. If the agreement is to be paid the day you are done expect that to happen.
I have been on jobs where the homeowner was there every day all day long until Friday when it was apparent you would be finishing up. Then about 2:00 they are just gone. Now you are finished, and they are not to be found anywhere.
Check with them on the day the job is going to be completed. Ask, "Are you going to be here when I'm done so you can write me a check?"  If they mumble, rephrase what they just said. "Are you saying that you'll be here this afternoon to give me a check when I'm done?"
The practice of rephrasing works for a good many things to set in stone what was agreed upon.
If they won't be there, explain you need to be paid before you leave so could they write it just before they go.  Once people give their word many times it changes the situation and they do the right thing.
At many junctions asking whether they want to pay with a check or a credit card is much better than just asking for a check.  "Do you want to pay with a check or a credit card before you leave?" Done properly they will answer with one or the other.  It is a sales technique that works well to close a conversation.
Collecting money is one of the most uncomfortable things about being a contractor.  Sometimes collecting your money involves confrontation, and confrontation is something that most people avoid like the plague.
If you don't GO GET THE MONEY, it is not fair to you. You did the work. AND it is not fair to your family.  You are working and spending time away from the ones you love and care for — and not getting paid?  NO.  If that has been you in the past on some accounts, you need to change that immediately. So you have to do some thinking about how to so set up your relationship with your customers so that you get paid 999.99% of the time.
Learning how to get paid on every job is an art, and it is all part of The Prosperous Life.